The time of Ascendancy is upon us!
New frequencies are reaching the planet and transformations are taking place.  We may refer to this as Ascendancy–returning all to ONENESS. During this process, you may notice mental, physical and emotional changes within yourself or those around you.  Even your animals can be affected by these changes as the vibration is intended to effect planet earth and all her inhabitants.  These changes are part of the normal cleansing and healing process; but are raising questions among those already experiencing change.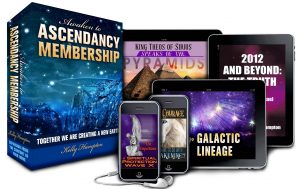 In discussion with Source on how Kelly can serve you through this process, she received a program called Awakening To Ascendancy.  This monthly program will be delivered in ongoing membership format allowing you to receive support through many resources. This support has proven to help you stay current on the energies and revelations affecting us all.
A sampling of some of what may be covered:
discover more about Ashtar Command, one of the great protectors of the Earth
learn of your galactic lineage through direct channeling
understand Star Missions from the Sirians or Arcturians
keep current on where the Star Races feel we are with disclosure
discover the new astrology/astronomy system  from Archangel Michael called DOMINION
hear from the Sirians describe their role on our planet beginning with the time of the Mayan and Egyptian civilization
some months receive healing transmissions from various light races for your animals
learn how to work with alchemy from many Ascended Masters, including Master Sananda (Christ)
current teachings about interstellar space travel and other technological advances
The true story of Mother Mary
Deeper understanding of light language and sacred geometry
Revelations of ancient mysteries
How to restore planetary crystalline grids
And more. Members are encouraged to submit their requests for monthly topics!
When you commit to consistent support you will receive consistent benefits!
Audio replays (podcasts) can be listened to by using the online player or be downloaded to your computer to listen offline or saved to your MP3 player or a CD. Note: High speed Internet is recommended. You will receive a special link to access the live monthly Q&A Telewebcast.
By continuing with signup, you agree to the Monthly Automatic Billing that will process on your account after the initial 30-day trial, on the same day of the month when you originally registered through our merchant account on PayPal. You may cancel your membership at any time by simply emailing Ascendancy@KellyHamptonOnline.com expressing your request to CANCEL MEMBERSHIP in the subject line with no long term commitment.
Become a member now for only $1 for your first month! This offer expires Feb. 1st, 2019.!
Every single month if you choose to subscribe, active members will continue to receive a brand new transformational information –often hours long–on different valuable topics to support you during this important time of Ascension. (And if you choose to subscribe after your first free month, you can cancel your membership at any time, otherwise it will renew at $39.99 per month, an exceptional value)
Disclaimer: We cannot and do not make any guarantees about your ability to get results with our ideas, information, tools or strategies. Your results are completely up to you and the action you take. I understand that I get a 30-day trial for $1. If, after 30 days you decide that you wish to pass on full membership, all you have to do is let me know by sending me an email (kelly@kelly-hampton.com). If you'd love to join, it's even easier. You'll be automatically billed $39.99 every month and you can cancel your membership at any time.