Glastonbury & Tintagel Sacred Pilgrimage 2019
Glastonbury, England
6 Day Journey to Avalon!
July 14-19th, 2019 with 2 day optional add on to Tintagel July 20-22nd with departure on July 22nd, 2019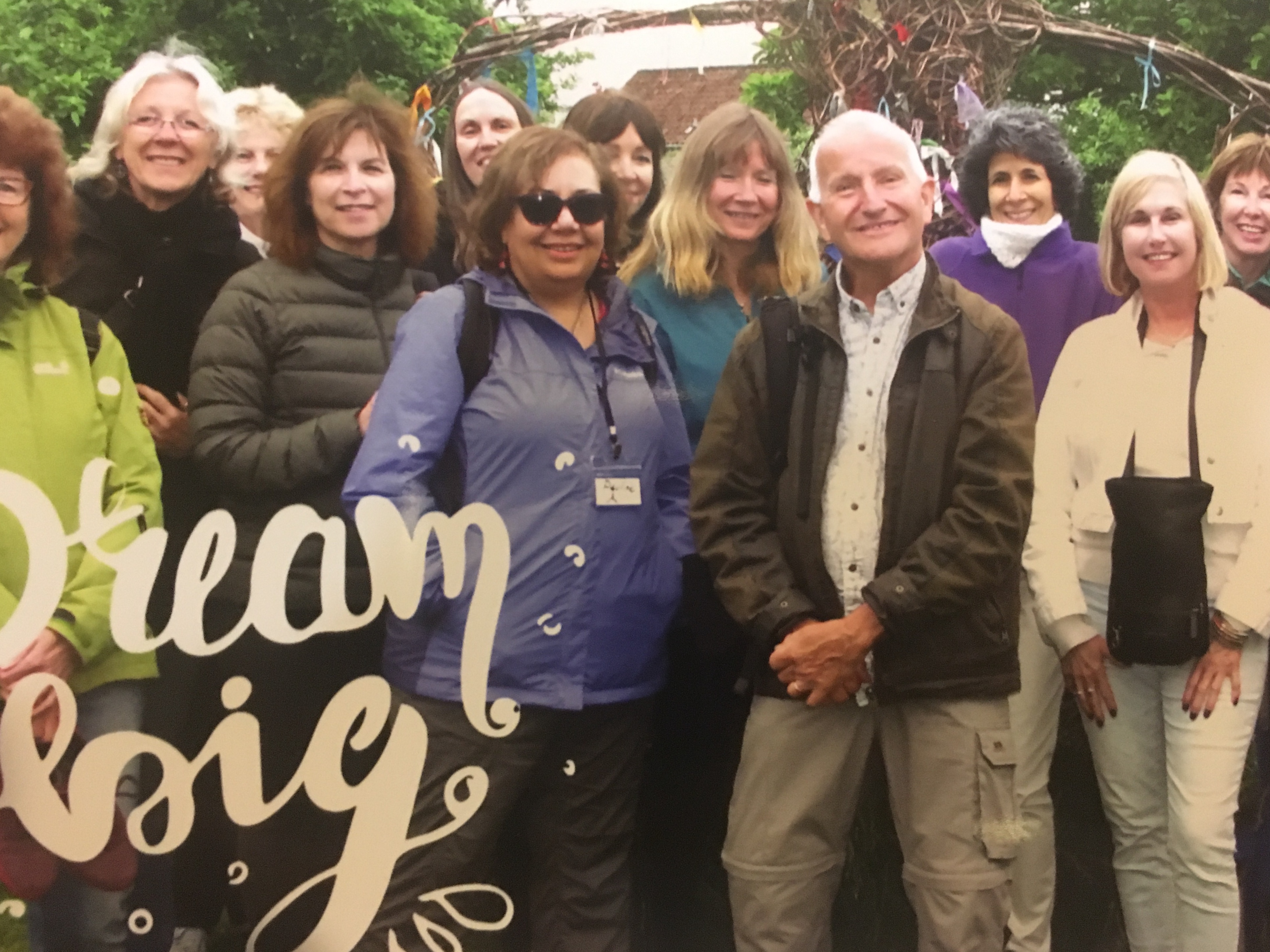 I invite you join me on my second spiritual retreat and sacred pilgrimage to the mystical lands of Glastonbury, England. We will immerse ourselves in the transformational energies of St. Michael and St. Mary's ley lines, Stonehenge, the Tor, Chalice Well and other ancient sites while deepening our connection with Mother Earth, the Divine Feminine, and all that this mystical landscape has to offer.
During this sacred journey, we will honor, heal, and transform aspects of ourselves and our planet during this profound time of Ascension. As part of your sacred pilgrimage, I will download and share as much divine information as possible. We will be working with energy, performing powerful group exercises, and allowing time for individual introspection as well. Our local guide Michael will also share his deep love and knowledge of ceremonial work which will likely include dowsing. Though this is crop circle time of the year in the UK, promises to locate and journey to any is not being made. However, last June during my first retreat to Glastonbury, AAMichael led us to a wonderful Pleiadian made one to our great surprise!! Once there, I downloaded divine guidance from Source for us to work within it (with farmer permission) to amplify its effects specifically, for easing of poverty and sustainable crops! I expect this journey to also involve some spiritual mission work for our planet.
The town of Glastonbury is nestled beneath the commanding presence of Glastonbury Tor—the heart of the legendary Isle of Avalon and meeting point of several powerful ley lines. Glastonbury, a major pilgrimage destination for thousands of years, is home to numerous sacred sites, some of which date back to the Neolithic period. Legend holds that Joseph of Arimathea arrived in the area with the Holy Grail, blessing the land and spreading the loving gospel of Christ. He is said to have founded Glastonbury Abbey, one of the oldest medieval monasteries in England and rumored resting place of King Arthur and Queen Guinevere.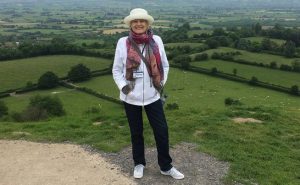 A visit to Glastonbury offers a unique portal into the mystical energies that overlay the land—the nourishing womb of the ancient Earth Mother, the divine presence of Jesus and Joseph of Arimathea, the enduring legend of King Arthur and healing powers of the Holy Grail, as well as the playful enchantment of the faerie realm. We'll connect with these magical energies and call upon the divine presence of Archangel Michael, Mother Mary, King Arthur, and more. Last time the Ascended Masters Jesus and Mary appeared and gave us all blessings and anointing's.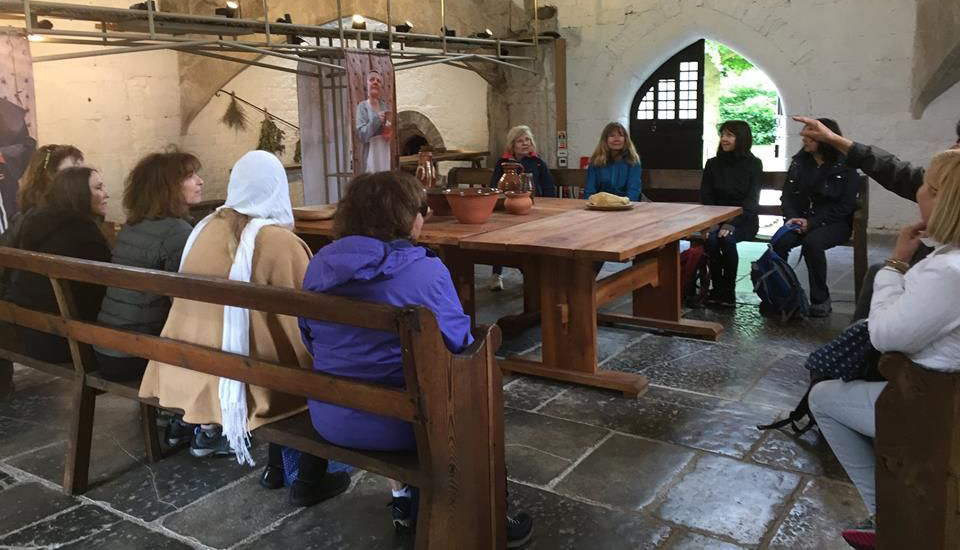 Teaching lesson: The photo above shows where we were guided to make an energetic Shroud of Turin–
the modern equivalent of the Holy Grail and then taught how to use it.
You should be in good physical condition to accompany our group, as part of our time will be spent in fellowship as a walking tour with some optional climbing (including the steep Tor). Our air-conditioned mini bus, and local taxi will transport us other days. We will have two pre trip webinars to give you a chance to become acquainted with your roommate and build community, and I ask for your participation.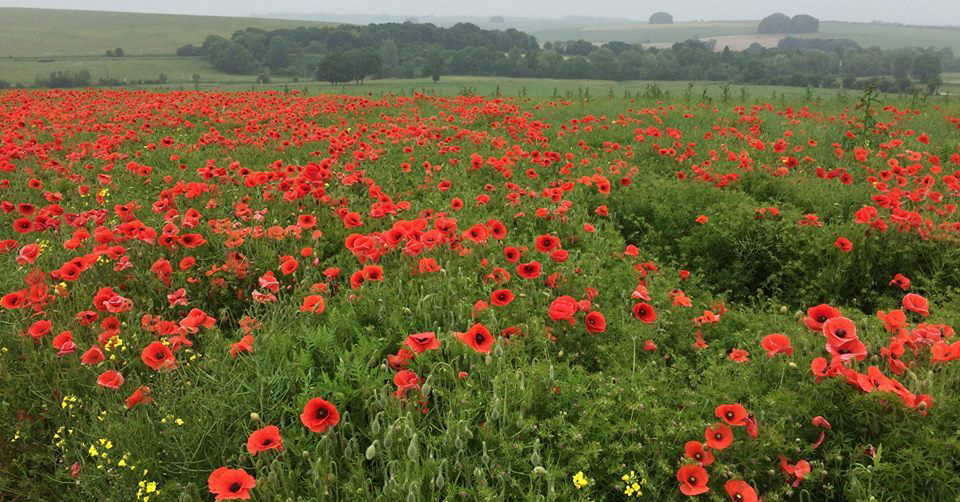 Teaching lesson: A beautiful poppy field where Archangel Michael asked us to help heal collectively the soldiers wounds and the imprint of war from the past, as the poppy field symbolized war and was still carrying energetic war residue in Gaia. In addition, most participants from my last pilgrimage appreciated the learning from the mascot Archangel Michael gave our group each day to work with and support us.–Kelly
Space is limited to 12 participants for the main pilgrimage due to van size and to help ensure an intimate experience for all. Accommodations in Glastonbury have been secured beginning July 14th. We advise that you arrive a day or two early, which has several advantages. If you choose to arrive prior to July 14th, you will be responsible for securing these arrangements. Please read our cancellation policy and disclaimer about other restrictions.
Our itinerary
Day 1: Sunday July 14
We will arrive in Glastonbury and check in to our lodgings at Pilgrims Bed & Breakfast. Hosted by innkeepers Brian and Clare, your accommodations at Pilgrims B&B feature spacious and comfortable rooms, tranquil gardens for quiet reflection, and a Sanctuary Meditation Room for group and private sessions with Kelly. Plan on a meet and greet of your fellow pilgrims and to meet our guide in the early evening after dinner to get acquainted and prepare for our adventures the following day.
Day 2: Monday July 15
Our pilgrimage officially begins today with a fascinating exploration of the of town of Glastonbury on foot. From there, we will be walking to the mystical grounds of Glastonbury Abbey, a medieval ruin rich in history and lore. The Abbey has been linked to Jesus and Joseph of Arimathea since the middle ages, and King Arthur and Queen Guinevere are said to be buried here. The afternoon will be open to further explore the town. Optional evening event on site with Kelly. 7-8:30 evening. TOPIC: Understanding your Galactic Lineage, Star Mission, Soul Purpose with Q and A. Including live channeling from the Council and energy process from Star Healing Intergalactic Energy TM. Register by the early bird date and this event is included FREE! Register After: $55.00 USD or equivalent British pounds.
Day 3: Tuesday July 16
Our morning will begin with a visit to Chalice Well and the Red Spring, a healing sanctuary at the foot of Glastonbury Tor abundant with nurturing goddess energy. Legend tells that Joseph of Arimathea hid the Holy Grail at this site centuries ago. Afterward, those that can will climb Glastonbury Tor, the sacred hill overlooking Glastonbury, and visit St. Michael's Tower at the top. Plan on self reflection, and group exercises here. You may also be inspired to pack your journal. We'll stop for a delicious, locally sourced lunch at the nearby Somerset Rural Life Museum café. Then in the early afternoon, we'll visit the White Spring, the second sacred healing spring at the base of the Tor. The healing waters of the Red and White Springs flow continuously, said to be nourishing gifts of life essence from Mother Earth. Finally, we'll walk back to town along a medieval foot path, tracing the steps of countless pilgrims from centuries past. *Optional evening event on site with Kelly. 7-8:30. TOPIC: Appreciating the Divine Feminine. Registration in advance or night of: $55.00 USD or equivalent British pounds. Kelly will channel multiple Goddesses during this evening event and answer your questions. A healing process will also be presented. 
Day 4: Wednesday July 17
The day will commence with a walk to Wearyall Hill, where Joseph of Arimathea is said to have arrived with his disciples (declaring "we are weary, all") and planted his staff in the ground. By morning, the staff had taken root and miraculously flowered into the first Glastonbury Holy Thorn. We'll also visit St. Margaret's Chapel, originally part of Glastonbury Abbey and connected to Mary Magdalene. In the afternoon, we'll travel to the nearby city of Wells to visit the magnificent Wells Cathedral, renown for its vibrant spiritual energy and stunning Gothic architecture. We'll also visit the adjacent Bishop's Palace and sacred springs within the peaceful Palace grounds. Optional group dinner–Goddess costumes encouraged but not required. 6pm start. Location to be announced.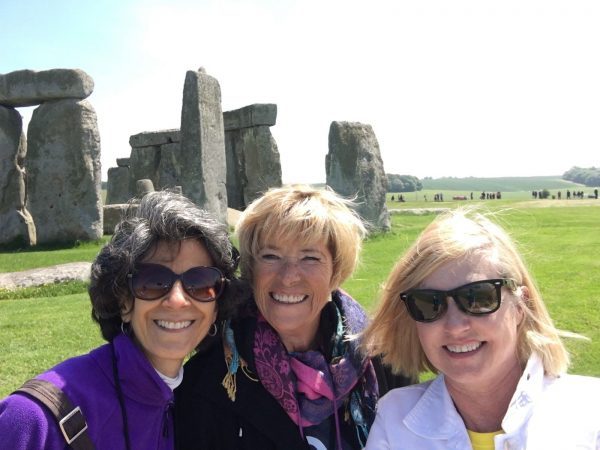 Day 5: Thursday July 18
Today we'll travel by minibus to Amesbury to visit the legendary monument of Stonehenge. *We may be able to arrange a private tour of Stonehenge. Details to be determined. Arranged in a circular layout symbolic of the Divine Mother, the massive stone structure is aligned with the sunrise of the summer solstice and sunset of the winter solstice—designed to be illuminated by the sunlight of the Divine Father twice per year. We'll visit the stone circle, explore the ancient landscape, and connect with the powerful energy of this sacred site. We'll also visit Cadbury Castle, thought to be the original fortification of King Arthur's Camelot, atop the picturesque summit of Cadbury Hill. *A limited number of optional private sessions with Kelly will be offered this evening–mediumship, channeling sessions on site. 6- 9 pm. 30 min/60 min. Advance reservations do require a deposit. Contact Kelly for pricing and reservation.
Day 6: Friday July 19
Our last day of official touring and exploring. Today will be spent exploring the mysteries of Avebury Ring—the largest stone circle monument in the world. Built by our Neolithic ancestors more than 5,000 years ago, the Avebury Ring contains multiple henge sites, yet is also part of a larger, interconnected landscape that includes the chambered tombs of West Kennet Long Barrow and the mysterious artificial chalk mound known as Silbury Hill. We'll call upon the powerful Earth Goddess energy at these sacred sites and delve into the rich, mystical lore of the area. We will meet after dinner for a recap, to process and share our experiences of the day. Meditation room at Pilgrims. 7:30-9 pm.
Day 7: Saturday July 20
For those pilgrims not extending their journey to Tintagel, we will wrap up our tour on this final day and check out from our accommodations with final farewell, reflecting on all that we've learned and experienced together. You'll be invited to stay connected with your new friends through a private Facebook group created for this purpose. We'll also create a sacred memory book you can keep within your heart forever! For those who have registered to attend the optional 3 day journey to Tintagel, we will be departing early morning to Cornwall with bags packed, ready to meet our driver and guide.
OPTIONAL ADD-ON TOUR EXTENSION TO CORNWALL
JULY 20-22 2019
Space will be limited to 9 pilgrims for the Tintagel Castle Extension
Day 7: Saturday July 20
We leave Glastonbury and motor to Cornwall arriving in Tintagel. Lunch will be on your own at the Tintagel Castle on-site cafe. After lunch you're off to explore Tintagel Castle, on a rocky windswept headland above the sea, surrounded on three sides by the Atlantic Ocean. Is Tintagel the birthplace of King Arthur? The mystery lives on! As we walk through these ancient ruins, we'll find a quiet and peaceful area of the site for a group meditation facilitated by Kelly and Michael along with spiritual exercises and sharing provided by Spirit. Tide and time allowing, we will descend to the beach to Merlin's Cave, located under the rocks close to Tintagel Castle. If not, we will view it from above. Legend maintains that the spirit of the great Druid Merlin is still here. After an adventuresome day we check into our guest house—the highly rated Bosayne Guest House and receive a warm welcome from the Innkeepers and maybe also have time for a cup of tea. Bosayne B and B is located 300 meters from the rolling waves of the Atlantic Ocean as they sound upon the dramatic cliffs and coves of North Cornwall. Your accommodations will include breakfast each day, with the center of the village being only a 2-minute stroll from their front door–perfect for on your own exploration and shopping!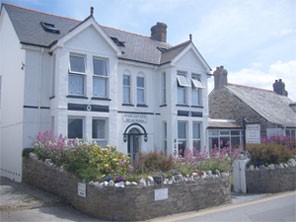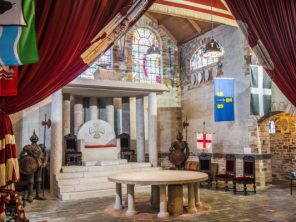 Day 8: Sunday July 21
Our first stop today is Arthur's Hall of Chivalry, an atmospheric and historic building built in the 1930s. Everything in these halls are based upon the Arthurian Romances associated with King Arthur and the Knights of the Round Table. Whether you take the tales of King Arthur literally or symbolically, or just enjoyed reading about King Arthur as I did as a child, the Great Halls are a remarkable experience, unlike any other Arthurian attraction.
Our second stop is St Nectan's Glen in Trethevy, an area of outstanding natural beauty. Walk to the waterfall and hermitage through an ancient woodland with ivy clad trees. A place held sacred by many who visit here.The glen's most prominent feature is St Nectan's Kieve, a spectacular 60 ft. waterfall. Kelly will continue to share her spiritual knowledge as we walk to the waterfall. We'll take time here for exploration of the natural beauty as well as individual meditation and reflection.
In the afternoon after lunch we will visit the quint village and fishing port of Boscastle. Here we will visit the Museum of Witchcraft, which houses the world's largest collection of witchcraft related artifacts and regalia dating from prehistory to today and is amongst Cornwall's most popular museums. We return to our guest house with some open time to shop, rest or just relax before joining our Optional Group Farewell Dinner at a local restaurant.
Day 9: Monday, July 22
Departure day. Our guide will end our tour at the Bristol coach station. From here you can get a coach to anywhere, including Bristol airport, Bristol railway station, all UK destinations by coach or train and there is an hourly shuttle to Heathrow with a journey time of just over 2 hours. Safe travels as you reflect upon your journey and perhaps start dreaming about next year…Cheers!
Space is limited to keep this journey intimate. This Sacred Journey WILL sell out.
Sign up today to avoid disappointment!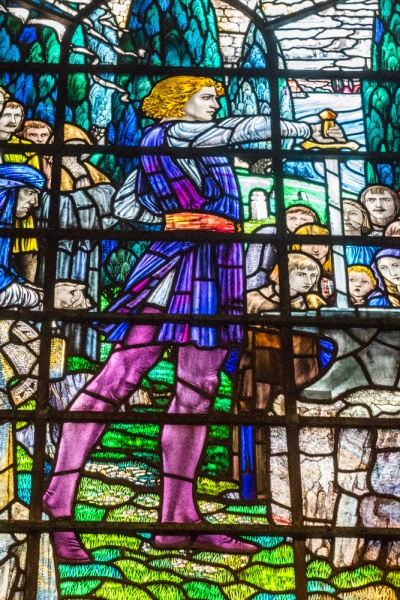 WISH YOU WERE HERE?
To pay in full, kindly remit
Pricing for Journey to Avalon ONLY Pilgrimage: $1,799 (USD)
INCLUDING Tintagel and Merlin's Cave: to pay in full kindly remit $2,099 (USD)
by selecting sending money to family and friends via paypal to
kelly@kelly-hampton.com
(to avoid additional 4% admin fees
If you are interested in joining us for Tintagel only, please contact my office for availability and further details.
This will be my only retreat to the UK in 2019!
How to register:
To make your non-refundable, non-transferable deposit of $500 USD today via paypal select sending money to Family and Friends to avoid additional processing fees or through wire transfer or check within the USA. Enter kelly@kelly-hampton.com and the amount. This will reserve your spot, with the remaining full balance due no later than May30th, 2019.
What's included  in your tour pricing:
Room accommodation at the Pilgrim's Bed & Breakfast (includes a delicious breakfast, 

some vegan)

Room accommodation if you are registered for the optional add on to Tintagel at Bosayne Bed & Breakfast, Tintagel (includes breakfast)

Access to all sites with admission fees listed in the itinerary

Our local experienced UK tour guide 

Comfortable van transportation or taxi transport when not walking

Healing meditations, processes and channeled guidance for the group during the tour by Kelly Hampton
Your responsibility (NOT included in your tour pricing) includes:
Transportation and travel expenses to and from Glastonbury (arrival and departure)

and/or departure from Bristol for those choosing the optional add on excursion

Meals (except breakfast at Pilgrim's B&B and Bosayne if registered for the add on journey)

Optional evening outings, shopping

Private sessions with Kelly and optional group workshops

Travel insurance

Tips for baggage handling, guides, waiters

Any other incidentals
Cancellation Policy:
Early bird pricing ended Feb. 14th, 2019. Registration will remain open until the retreat is filled. There are no refunds for any reason including acts of God at any time, prior to, during or after the retreat. 

Your initial deposit and full payment are nonrefundable. That is because we are required to pay a considerable percentage in advance for the trip, on initial registration and this payment is nonrefundable to us. Commitment is then a major part of this very special pilgrimage. In the event of illness, accident or any scenario in which someone cannot go after remitting the full payment, please be fully aware that while there are no refunds, you may sell your trip package to someone else…but you will be responsible for finding the other person. We will assist in this process where we can, but the actual selling of your package will be between you and the new attendee. Please also note that there will be an applicable transfer fee of $350 dollars payable to Healing Enterprises LLC in order to process any accommodation changes in the event you sell your trip for any reason.

You will be required to sign a release of liability form which must be received prior to the confirmation of your order.
Disclaimer:
We will hold your registration until 60 days before the departure date (unless sold out) in order to try to match you with a roommate. If by that date we have not been able to do so, you will be responsible for paying the single room supplement fee. You will have a better chance of being matched with a roommate if you register early. There may be a limited number of single rooms available.

This event is for anyone 21 years of age and older who is in good health and able to make short hikes and do a fair amount of walking each day.

Note: People that are physically or emotionally challenged are asked to notify us in advance in order for us to determine if our retreat is appropriate. 
You will be required to purchase your own medical & travel insurance to participate in these retreats. (Or proof of other coverage through a rewards program etc.)  Medical Insurance is not provided. Attendees are required to have coverage for medical & travelers insurance. Attendees are advised to check on travel insurance with your medical provider, airline or travel agent. We recommend that you review the different policy terms and to reserve your flights and other extensions to your trip far in advance.

We can make recommendations for arranging various forms of transportation to our B&B including van rental.

While this is a learning event, recording or sharing of any type of the material presented during this event is prohibited except for personal use.

We strongly recommend you to arrive in Glastonbury 1-2 days early. This provides several advantages, providing a safety margin in case of flight delays or cancellation, time to recover any lost baggage, and time to adjust to jet lag and time differences.

While we trust our group will be a harmonious one, we reserve the right to remove anyone who proves to be a continual disruption without compensation of any kind.
Kelly Hampton is a way shower, spiritual Alchemist here to anchor the Christ grid of Ascension. She is a renowned author, elemental, angelic, ascended master and intergalactic channel. She is also an internally known gifted medium, hearing guidance from your loved ones and animals on the other side which developed since the age of 14 when her Mother first communicated to her from the Kingdom of Heaven.. Since 2010, she is also the founder of multiple 5thD-12thD groundbreaking healing systems given to her by Archangel Michael including STAR HEALING INTERGALACTIC ENERGY™, Star Healing Equine™, Star Healing for Small Animals which some are calling THE most powerful healing systems on the planet. She is also the founder of Ascended Spaces™ from Archangel Michael—the angel's answer to feng shui–for creating abundance in our New Earth. She certifies practitioners in all of these modalities worldwide with practitioners currently in six countries.  
She is the founder of DOMINION, the new astrology-astronomy system for the New Millennium from Archangel Michael since 2015. She is the author of INTO THE WHITE LIGHT: THE REVELATIONS OF ARCHANGEL MICHAEL, 2012 AND BEYOND: THE TRUTH FROM ARCHANGEL MICHAEL, and her latest release THE BOOK OF ANIMALS: Healing Wisdom from Archangel Michael. She also leads 5thD spiritual retreats to power spots and conducts training workshops around the world. This will be her second led retreat to the UK, with plans to return to Mt. Shasta, Ca, and Assisi Italy in 2019. Look for this information to appear soon under retreats. Stay involved by subscribing to her newsletter and receive FREE gifts. She has appeared alongside many of the world's most accomplished speakers, healers, psychics and authors including Gregg Braden, Lisa Williams, Marianne Williamson. More recently, she is also the creator of StarCodeCreations:The Light Way to Heal, highly charged accessories for men, women and pets using healing codes from Archangel Michael. 
Your Glastonbury Guide
Michael has lived and worked in Glastonbury, otherwise known as The Isle of Avalon, for over 30 years. He has always had a love for the ancient history of the place and all the myths and legends associated with it. Michael is an accomplished Ceremonialist and will assisting Kelly with some ceremonies during your spiritual pilgrimage at the sacred sites. There is always time to sit under a tree, to touch an ancient standing stone, to have a prayer or a wish, or to dowse some earth energies. Michael looks forward to meeting you and guiding you through some of the wonders of ancient Britain!