Your Sacred Pilgrimage to Glastonbury and Penzance, England Awaits You!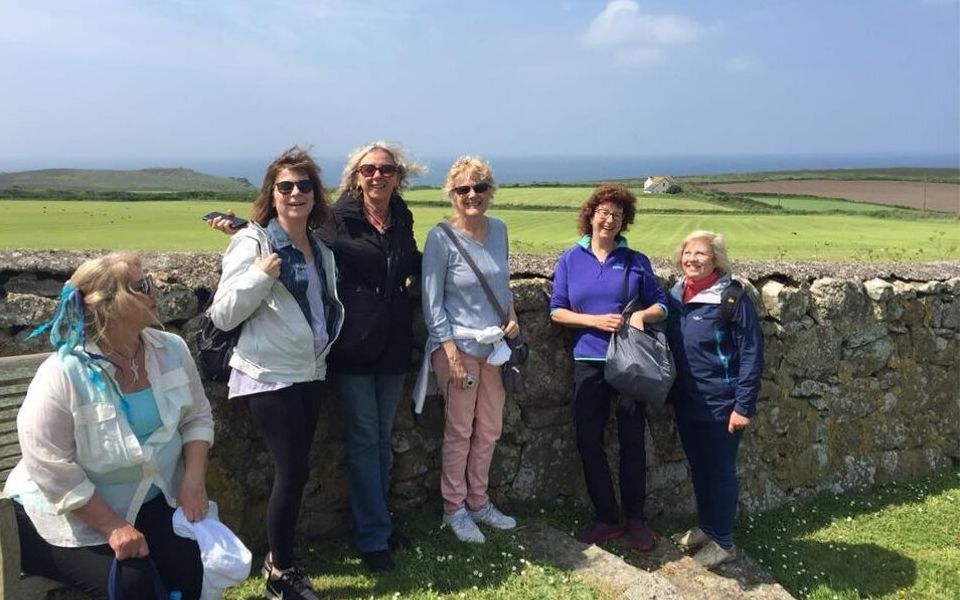 "I invite you to join me on my third spiritual retreat and sacred pilgrimage to the mystical lands of Glastonbury, England (Avalon) in July 2021. Glastonbury is a joy to visit any time of the year. We will immerse ourselves in the transformational energies of St. Michael and Mary's ley lines, world famous Stonehenge, the Tor, the holy Chalice Well and other ancient sites while deepening our connection with Mother Earth, the Divine Feminine, and all that this mystical landscape has to offer. Stonehenge is often considered one of the 10 most powerful spiritual places in the world, alongside Machu Picchu, Peru and Sedona, Arizona. 
During this sacred journey, we will honor, heal, and transform aspects of ourselves and our planet during this profound time of Ascension. As part of your sacred pilgrimage, I will download and share as much divine information as possible. We will be working with energy, performing powerful group exercises, and allowing time for individual introspection as well. We will be joined at times by our local guide Michael, who will share his deep love of the history of Avalon along with his knowledge of ceremonial work which will likely include dowsing with rods and more! To help ensure that this retreat is in perfect alignment with you, everyone is being asked to complete and return a brief application or questionnaire to start the process." 
The town of Glastonbury is nestled beneath the commanding presence of Glastonbury Tor—the heart of the legendary Isle of Avalon and meeting point of several powerful ley lines. Glastonbury, a major pilgrimage destination for thousands of years, is home to numerous sacred sites, some of which date back to the Neolithic period. Legend holds that Joseph of Arimathea arrived in the area with the Holy Grail, blessing the land and spreading the loving gospel of Christ. He is said to have founded Glastonbury Abbey, one of the oldest medieval monasteries in England and rumored resting place of King Arthur and Queen Guinevere.
A visit to Glastonbury offers a unique portal into the mystical energies that overlay the land—the nourishing womb of the ancient Earth Mother, the divine presence of Jesus and Joseph of Arimathea, the enduring legend of King Arthur and healing powers of the Holy Grail, as well as the playful enchantment of the faerie realm. We'll connect with these magical energies and call upon the divine presence of Archangel Michael, Mother Mary, King Arthur, and more. On one of our sacred journeys the Ascended Masters Jesus Christ and Mother Mary energetically appeared and gave us all profound blessings and anointings. Another time, we were guided to create the energetic Shroud of Turin and taught how to use it for ourselves and others.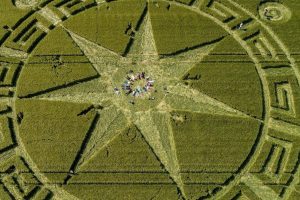 We cannot guarantee that we will be able to visit a crop circle for a variety of reasons, as magical as they are. However, it is the season for them and during two previous retreats we were guided by beloved Archangel Michael to them where we worked on planetary issues like world hunger, poverty, etc.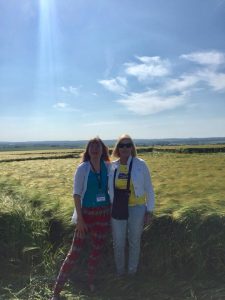 Our Tentative Itinerary as Spirit is Ultimately Guiding Us
Tuesday, July 6, 2021
We will have an informal "meet n greet' at our Inn in the evening of the 6th. The first day of our pilgrimage begin the following day. Accommodations have been secured at Pilgrims Inn on July 6th. If you plan on arriving earlier and wish to stay at this same established inn (recommended but not required) please contact them directly at pilgrimsbb@hotmail.com. Of course, you may choose to advance stay anwhere of your choosing in Glastonbury. We recommend doing this early.
Day 1: July 7, 2021
The first day of our walking tour of Glastonbury. We will learn about the lei line significance, its story and how we may work with the line. If you have divining rods, it's a perfect time to have them available! We will visit the main Glastonbury places associated with the line– including Glastonbury Abbey ruins, the Chalice Well and the White Springs. These waters have been visited for thousands of years and are believed to have healing properties. There will be a break for lunch in town. All sites are quite close to one another. I will be downloading "lessons" from Archangel Michael and many of the Ascended Masters during our time together. This will be a full day. Back in time for dinner and evening rest.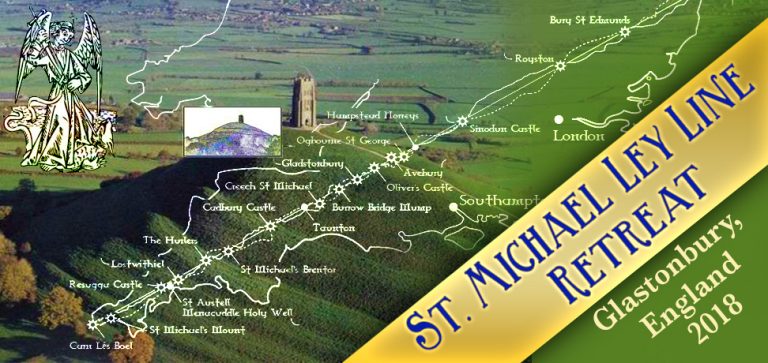 Day 2: July 8, 2021
After a delicious prepared breakfast, we will continue our second day with a morning meeting and centering exercise at Pilgrims Inn and if necessary to also share the day's prior events. Then we will walk to the iconic Glastonbury Tor. If you are unfamiliar with the Tor, it is known as being one of the most spiritual sites in the country with magnificent views of Somerset Levels, Dorset, Wiltshire and Wales. Plan on being involved in some spectacular spiritual "alchemic lessons" from Archangel Michael for yourself, others and our planet. This is also an inspiring spot to journal your impressions.
There will be afternoon free time for you to explore some of Glastonbury's weird and wondeful metaphysical shops if you wish. In the evening, we will meet to group share our adventures. Kelly will also be offering a limited number of discounted private readings after dinner. Please contact her office for more information and advance reservations.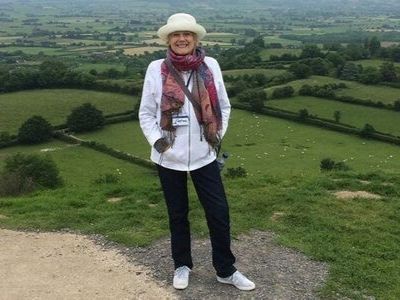 Day 3: July 9th
We will depart for our Stonehenge adventure by van or taxi (s), depending upon our group size. (a 75 min. drive). Lunch will be at the Stonehenge cafe. The rest of the day will be spent exploring and learning the origins and purpose of the Stone Circle itself as communicated from Archangel Michael. We will be guided to conduct energy "alchemy lessons" here also. Late afternoon arrival back to Pilgrims Inn with the remainder of the day open to shopping in Glastonbury, processing the day's insights or whatever you like.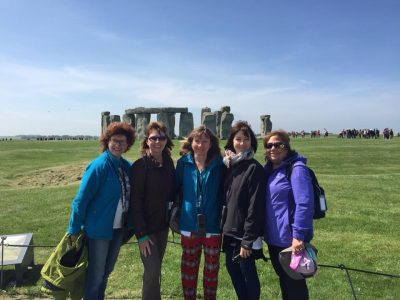 Day 4: July 10th 
Today we meet up with a local guide who will transport us in morning to Cornwall via air-conditioned minivan.  We will be heading west through the counties of Somerset, Devon and Cornwall. After a 3-hr. drive we will visit the Hurler's Stone Circles and the Cheese Ring rock formation with about 3 miles of walking over uneven ground. We will complete our day with check in to Longboat Inn, our accommodation with a traditional Cornish restaurant, a 5-minute walk to Penzance harbor and near a good selection of shops, cafes and restaurants.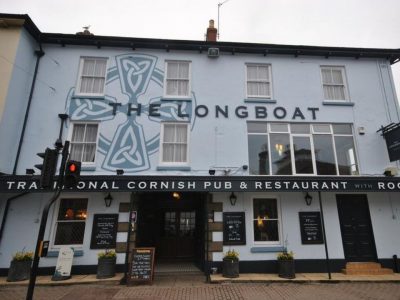 Day 5: July 11th
We will depart the hotel with our guide via mini van to explore Merry Maidens stone circle in Penzance, the Bos Cowen-Un stone circle and ending where the Archangel Michael and Mother Mary lei lines meet at spectular Carn Les Boel (Land's end.) 
The Merry Maidens is part of an extensive ceremonial landscape and one of the few 'true' stone circles in Cornwall being perfectly circular. Lunch will be at a quaint wayside inn between the sites. Return to our hotel by 5 pm.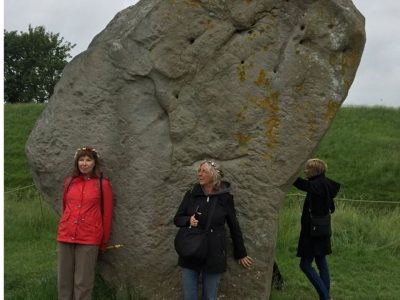 Day 6: July 12th
Enjoy a day off from official touring to relax, shop and process our teachings with more leisurely time on your own. For those who are interested, our guide can drop us at the legenday First and Last Inn Restaurant and Bar, a dining establishment welcoming smugglers and ship wreckers since the 17th C. This will be followed by some beach time along Sennen Cove beach with an awe-inspiring coastal walk in the afternoon. In the evening for those who are interested, you may choose to add on an additional optional event to attend an  a night of entertainment at the Minack Theatre.  The Minack is a unique open-air theatre perched on the spectacular cliffs high above the Atlantic Ocean which has a program of drama, musicals and comedy events and really not to be missed.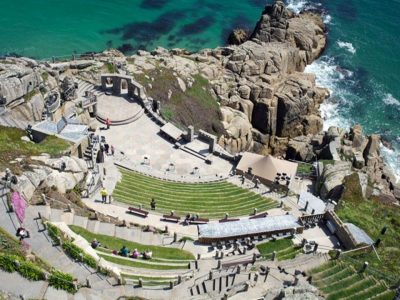 Day 7: July 13th
We will head to St. Michael's Mount. Depending upon the tides, we will either walk over the causeway to the island or take a ferry. Lunch will be at the cozy castle café. We will spend several hours exploring the castle, the grounds and conducting further "lessons" from Archangel Michael that I will directly access. After leaving St. Michael's Mount, you'll have leisure time in the evening.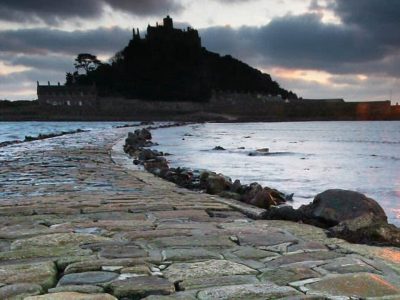 To help create a balanced group of pilgrims, I ask that you begin your process to join me by completing an application, which also helps determine your emotional and physical aptitude. Please email my office to receive an application. Once you have been accepted for this retreat, an $800 non refundable deposit is required to  complete your reservation. You may make that payment by sending it via paypal and selecting sending to FAMLY AND FRIENDS (to avoid additional processing fees). Check within the USA is also accepted or international money order. You will be required to sign a release of liability form which must be received prior to the confirmation of your order. You will be notified via email of your acceptance within 2 weeks upon receipt of it. 
Your early bird price to Avalon if received in full by Jan. 31st, 2021 is $1995 per person,double occupancy, land only.  After Jan. 31st, 2021 your total fee will be  $2,395 per person double occupancy, land only (not including upgrade for a single room if available.) 
 Most accommodations will be shared rooms. There will be a $200 upcharge should anyone desire single room accommodations. Please be advised that single rooms have limited availability and are processed as they are received. When making two payments, the remaining balance in full is due no later than April 30th, 2021.
Note: To enjoy this pilgrimage your physical activity will include moderate to extended walking on uneven earth and stone terrain. Our excursions in both areas are not wheelchair accessible and you must be able to walk unassisted as well as be able to transport your own luggage unaided. The journey to the top of the Tor is steep. You will be asked to complete and return a medical release form, and a release of liability form before your registratrion is accepted. Your first step is to complete and return the application to determine if this retreat is for you and best serves its purpose. We are not tourists, but lightworkers and you will be immersed in Alchemic exercises! This 5thD retreat is open to men and women in good health over the age of 40. Once the retreat is filled, you may contact Kelly's office to be placed on the wait list. 
Day 8: July 14, our last official day!
We check out from our hotel early (9 am) to explore on foot beautiful Lydford Gorge (approx. 2 hr. transport) with its magnificent waterfall.  Lydford Gorge is the deepest gorge in the whole of the south west surrounded by ancient woodland. The gorge features two "must see" attractions – the White Lady Waterfall (a 1 hour circular walk) and Devil's Cauldron.  We will gather before leaving the gorge to process our adventures, share our experiences and say a fond farewell.
For those pilgrims wishing to depart for home (or to further your travels) via Bristol train station, we can transport you there if the timing is agreed upon before your booking, so as to not to interfere with the rest of the day's schedule. For others, we plan to complete our day traveling back Glastonbury via minivan where you may plan to depart or decide to make your own accommodations for the evening and continue your travels.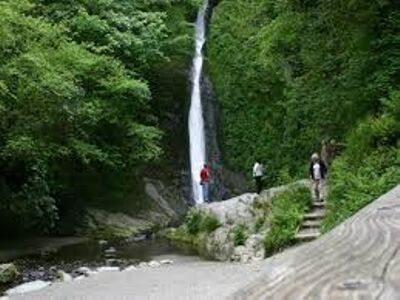 What is included in your 5thD Spiritual Retreat Pricing?
Shared room accommodation at the Pilgrim's Bed & Breakfast (includes a delicious breakfast, some vegan)

Shared room accommodation in Penzance England (includes a delicious breakfast).

Access to all sites with admission fees listed in the itinerary including Chalice Well, Glastonbury Abbey, Stone Henge, Lydford Gorge, St. Michael's Mount and Gardens.

Our local experienced UK tour guide

Comfortable van transportation or taxi transport when not walking.

Healing meditations, processes and channeled guidance for the group during the tour by Kelly Hampton
Your responsibility includes (NOT included in your tour pricing):
Transportation and travel expenses to and from Glastonbury (arrival and departure)

Meals (except breakfast at Pilgrim's B&B)

Single room supplement

Optional evening outings, shopping

Private sessions with Kelly and any optional group workshops which may be offered

Travel insurance

Tips for baggage handling, guides, waiters

Any other incidentals
PLEASE READ CAREFULLY BEFORE BOOKING
Registration will remain open until the retreat is filled. Healing Enterprises LLC reserves the right to alter or cancel any tour. If due to unforseen circumstances, your retreat is cancelled by Healing Enterprises/Kelly Hampton your payment or deposit will be fully refunded. It is required that each participant secure trip cancellation insurance to cover refund of airfare in such a case as this is not our liability. Healing Enterprises/Kelly Hampton will not be held responsible for any cancellation due to government travel restrictions made by your country, France, England, Ireland or Scotland or any other country you may be flying through to arrive at your destination. In this case, your deposit would not be refunded. Although you may transfer your registration to someone else.
Your initial deposit and full payment are nonrefundable. That is because we are required to pay a considerable percentage in advance for the trip, on initial registration and this payment is nonrefundable to us. Commitment is then a major part of this special 5thD power spot pilgrimage. In the event of illness, accident or any scenario in which someone cannot go after remitting the full payment, please be fully aware that while there are no refunds (that is why travel insurance is required), you may sell your trip package to someone else, but you will be responsible for finding the other person who must also meet our requirements for mental, physical and travel insurance criteria. We will assist in this process where we can, but the actual selling of your package will be between you and the new attendee.
Please also note that there will be an applicable transfer fee of $250 dollars payable to Healing Enterprises LLC in order to process any accommodation changes in the event you sell your trip for any reason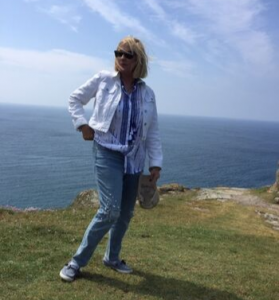 Kelly Hampton is a way shower, spiritual Alchemist here to anchor the Christ grid of Ascension. She is a renowned author, elemental, angelic, ascended master and intergalactic channel. She is also an internationally known gifted medium, hearing guidance from your loved ones and animals on the other side which developed since the age of 14 when her beloved Mother first communicated to her from the Kingdom of Heaven. Since 2010, she is also the founder of multiple 5thD-12thD groundbreaking healing systems given to her by Archangel Michael including STAR HEALING INTERGALACTIC ENERGY™, Star Healing Equine™, Star Healing for Small Animals which some are calling THE most powerful healing systems on the planet. She is also the founder of Ascended Spaces™ from Archangel Michael—the angel's answer to feng shui–for creating abundance in our New Earth. She certifies practitioners in all of these modalities worldwide with practitioners currently in six countries.  
She is the founder of DOMINION, the new astrology-astronomy system for the New Millennium from Archangel Michael since 2015. She is the author of INTO THE WHITE LIGHT: THE REVELATIONS OF ARCHANGEL MICHAEL, 2012 AND BEYOND: THE TRUTH FROM ARCHANGEL MICHAEL, and THE BOOK OF ANIMALS: Healing Wisdom from Archangel Michael. All of which have been translated into a number languages.
She also leads 5thD spiritual retreats to power spots and conducts training workshops around the world. This will be her third retreat to the UK with plans to return to Mt. Shasta, Ca. and other 5thD power spots as she is guided.
More recently, she is also the creator of StarCode Creations:The Light Way to Heal, highly charged accessories for men, women and pets using healing codes from Archangel Michael and offers continual support during this time of Ascension through her monthly online Ascendancy Program. 
"Downloads from Mother Mary at the altar, chanting "om mani padme hum" at the crop circle, chanting and hearing the strength of my voice, receiving my energetic tools from Kelly and putting them to use,channeled messages from Mary Magdalene, Mother Mary and Yeshua were all favorite experiences of mine. I loved the time in our van when Kelly shared more teachings and offerings through her stories. Holding the nautilus shell in our circle the last day with all of our hands together in final ceremony, feeling a strong presence of Mother Mary at Lands End and really ALL that was offered."–Carolyn
"I loved the variety and number of sites we visited, tuning into the energies in each place."–Pat T.
"The sisterhood and the understanding that we were accomplishing something important were among my favorite experiences."–Debbie
"Everything was my favorite! The synchronicity and magic of the group, how divinely supported we were. Glastonbury Abbey brought tears of joy. I felt like I had returned home. At Stonehenge, I loved Theo the Giant playing with me." –Wendy L.
"The teachings and channelings Kelly shared from Archangel Michael, Jesus, The Council of 9-12 and others. Meeting and spending time with everyone. The work we did at St. Michael's Mount and the surprise of the crop circle."–Jean H.
"Every moment was truly a huge gift!"–Susan C.
"Magical is the one word I would use to describe this journey."–Marian
"The Abbey in Glastonbury was one of my favorite experiences. I was also in awe of the beauty of Mother Earth at Land's End. I learned from this journey that people have so much more depth than you can possibly know if you don't spend time with them. I've learned that women are so courageous and resilient in their personal journeys through life. I've learned that every person has something to teach us. Thank you Kelly for sharing your gifts with us and for just being you. I would do it again with you!"–Ingrid R.
"With this sacred journey, I hoped to discover how I can offer more and see the divine in others and contribute to heal our world. Thank you so much for all the invaluable offerings!"–Susan C.
"What did I learn about others from this experience? That we are all one at the core whatever exterior we present to the world. The whole trip was hugely expansive and it felt like we had stepped into Lord of the Rings. The crop circle was a once in a lifetime experience and I felt wonder, awe and a powerful connection to my Galactic brothers and sisters. The rugged landscape at the coast, the rocks and luminous swirling waters were spell binding."–Marian